Get a

Membership Today
Sign Up Now
Online Video Marketing on the Rise
The current state of advertising given the global pandemic highlights a trend that was already in place before the catastrophe struck: the shift to online marketing and the powerful use videos play in engaging a business' audience. Videos have been proven to be the most effective content type to convey a message, amplify brand awareness, and retain and attract new customers. Check out our blog post Why Advertise on YouTube? to learn more on why video is so effective.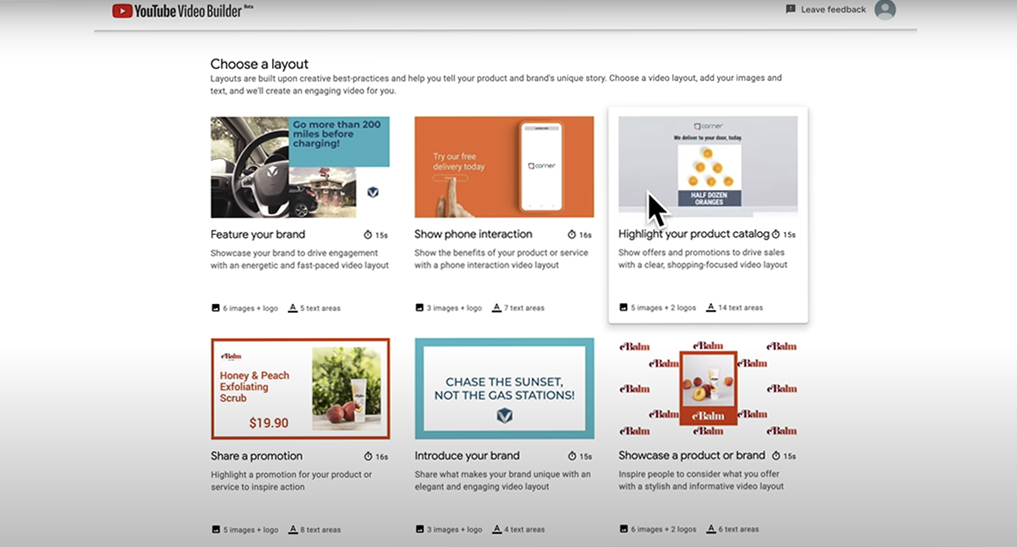 Despite this highly effective power, videos have long been a timely and expensive digital asset to create, taking up extensive manpower and time with production efforts. For many businesses, starting a video campaign from scratch can be a highly daunting task. Now, with YouTube Video Builder, currently in Beta release mode, brands and businesses can create quick and inexpensive videos with only a few images and text in just a short time.
YouTube Video Builder
The Video Builder generates short form videos of 6 to 15 seconds that are designed to build brand awareness, keep customers informed, and attract new customers to the benefits that come with using a given brand's product or services. Watch the video How to Use Video Builder to see how easy it is to generate quick, professional looking videos that you can deploy on your YouTube channel.
In short, Video Builder animates static images, text, and logos with music the user can choose from the gigantic YouTube Audio Library of free, royalty free tracks. The Video Library provides a variety of templates and layouts, as well as customizable colors and fonts, based on your message and goals. The Video Builder is ideal for building quick Bumper or Non-Skippable ads, but can also work great for short skippable In-Stream ads. To learn more about the different types of YouTube ads, check out our post Types of YouTube ads.
Different Uses of Video Builder
Businesses may have different needs and intended uses for their videos. Check out the following examples of videos created with YouTube Video Builder:
No matter where a business is at in their video advertising experience, Video Builder provides a time-effective way to generate short form creative videos.
Creating Short Form Videos is Now Easier
For brands or agencies with existing video resources, Video Builder can help bring agility and experimentation to the creation process by generating supplemental, lightweight videos. For smaller businesses and those with less creative experience, it can provide an efficient, low-resource way to create videos, perhaps even for the first time.
If you're interested in signing up for access to the Beta release of Video Builder, sign up here. If you register and create your first video, or already have videos ready to deploy, go to TubeSift.com to learn how TubeSift can help you target your audience and deploy your videos to thousands of videos in just a few clicks.
Get a

Membership Today
Sign Up Now
Resources
Video Creation is Fast, Easy and Free with YouTube Video Builder by Ali Miller on Google Ads Blog