Get a

Membership Today
Sign Up Now
Video Transcript
An Interview with Maxime Warnault of MaximeW
Brady Snow:
Hey Maxime. Can you hear me?
Maxime:
Hello? I know. Yeah. Can you hear me?
Brady Snow:
Yeah, I can hear you fine. How are you doing today?
Maxime:
I'm doing fantastic. How are you?
Brady Snow:
I'm good. Nice to meet you.
Maxime:
Nice to meet you too, man.
Brady Snow:
I like that picture in the background.
Maxime:
This one? Yeah, it's a frame. I like the vibe.
Brady Snow:
Yeah for sure. Cool Oh yeah. Thanks for agreeing to do this call.
Maxime:
Yeah. Thank you for having me, man. I'm excited.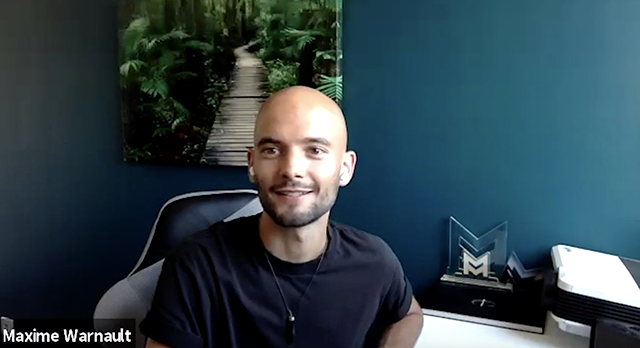 Getting Started with YouTube Ads
Brady Snow:
Yeah, for sure. Yeah. So we're recording. So I guess we can just start into the questions. Yeah. So I guess just to start, tell us about your YouTube ads consulting business MaximeW and how you got started with YouTube ads?
Maxime:
Yeah. So for the quick story, so I started my business about two years ago and I started as an Affiliate. I can get the natural world class for pretty much everyone when we start to make money online. So I started as an Affiliate and which led me to make my first $10,000 per month online. And I used Facebook ads and YouTube ads to, in order to do that. And yeah, so the background is that I was working as a software developer in Paris and I quit my job because I just got tired of working for someone else. And so I booked one way ticket to get to the other side of the world with Trillia and I started to travel and I started like a personal development journey to know exactly like discover what I wanted to do with my life, all of these kind of things.
Maxime:
And so while I was there, I wasn't speaking English at all. So like I really had to force myself to learn new things and I started to really decent English. And so I started to see what was actually possible and I wanted to become a Digital Nomad. So, that's how I got started with actually did Marketing. And so as an engineer, I roughly knew that I wanted to do something that was predictable, something that was going to help me play with numbers. And so Facebook and YouTube naturally came. And so I made a launch for Tony Robbins and Dean Graziosi. And so that helped me make my first $10,000 per month. And from there seeing what's working with YouTube, then I like not sure when you see what's working, that you want to double down on what's working and keep focusing on that. So that's what I've done and I've created my consulting business. And so right now I work one-on-one with clients are mostly coaches, consultants, and course creators, basically information businesses. And so I then grow with so YouTube ads. And I also do like the phones did E-mails and all kinds of automation to make sure that they get like a really great experience. I also have like a master class for anyone wanting to learn YouTube ads where I actually teach OTU.
Maxime:
And right now I'm building a coaching program, so I can have more leverage to like get more and more people jump on YouTube ads. And so I would have like different coaches to from the Finance side, copy writing the PSA, the Ad scripting, all of these kinds of things. So, that's a quick story on, Oh, I started to get there.
Winning the Impact Award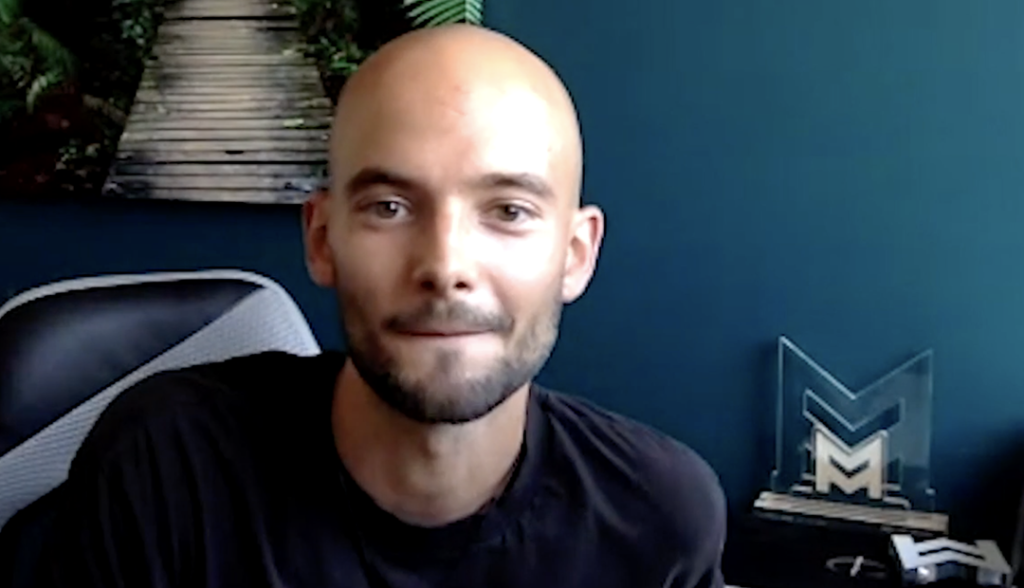 Brady Snow:
Cool. Yeah, it's cool. You mentioned the Tony Robbins and Dean Graziosi, and you won an award for that. Can you tell us
Maxime:
Yeah,
Brady Snow:
a little bit about that?
Maxime:
So I wasn't as serious. So the first year, and I actually want these impact award on stage from Tony and be themselves. So it happened. So after I came back from Australia, so at first, when I started my business, I had to figure everything out. So nothing really worked and I had to move back in with my parents. And so that's, when I, again, I started to ask myself the question, what should I do? What business is working with networking and other of these kinds of things. And I was on the Click Funnels group and I seen that Ressa and Tony Robbins were about to do something together. And so these were two of my mentors when I, when I first started my business and they were asking my mentor. And so I was like, I absolutely need to jump on this thing.
Maxime:
And I need to add these guys. I'm like reach more people because what, what they've done for me is like, like I wouldn't be there without them. So, so I jumped on dissertation and I wasn't a PDF for the first and the second year of the KBB. And so this is the name of their course, the knowledge broker blueprint, and yeah, so like in two weeks, we did the launch and then for the top Affiliates, we were invited to Las Vegas and I'm like, I didn't know that I was going to get this award. And so Tony and Dean just caught me on stage and got me this award for helping people and for being one of the [dope 00:0°1:05] . And I agree for, for that.
How TubeSift helped with the promotion
Brady Snow:
Congrats on the award. Yeah. Could you tell us a little bit how you used TubeSift and how it helped you out?
Maxime:
Yeah. So the day of, so the first launch I used Facebook ads. Can you hear me okay?
Brady Snow:
Yeah.
Maxime:
So the first launch, I used YouTube Facebook ads, and I was planning to do exactly the same on the second launch, but so I had prepared everything like one month before the launch. So I, all the campaigns or the copied, the image, the video, the re like everything was created. And the day of the launch, when I turned on the Ads I got a notification from Facebook telling me that they disabled my account. So I just completely freaked out. I didn't knew what, what you, like. I was like, I was preparing this thing for about a month. And then the day of the launch, I was just sitting there with my Facebook ads account December. So for about like two hours, I was thinking like, man, what, what should I do?
Maxime:
And then I addressed come down and I bought a YouTube ads masterclass for two hours, which teach me everything step by step, Oh. To launch my first campaign. And I actually signed up for TubeSift. And so I was like, okay. So they provided all the videos. So that was like the best thing ever. So I didn't have to reinvent or like everything. So I basically uploaded all of their video assets on my YouTube channel. And I started my Google ads account. I like, and I followed the training step by step. And the next day I had my ads on YouTube open running, and I actually used the proceeds to find so to target the placements of Dean and Tony's channels. And so I didn't have to go like copied the videos. Step-by-step so copy and paste. And so, and me, I get hundreds, if not thousands of placements, like in just a few minutes, and this really saved me a lot of times, especially in this situation where I really had to launch the ads as fast and as quick as possible. So yeah, this really helped me. And so like the next day with absolutely no experience on YouTube, I actually launched all of the YouTube Ads for affiliate launch and I was up and running.
Brady Snow:
Cool. That's awesome. Yeah. Glad to hear TubeSift was able to help with that.
Maxime:
Definitely that was a game changer for me. Like if I had on my own, It would take me like a few, few more days, I think.
Brady Snow:
Yeah. You have to find all the different videos and copy paste URLs, like crazy. Yeah. Yeah.
Maxime:
Then like, save me so much time.
The #1 Problem for People Using YouTube Ads
Brady Snow:
Cool. Well, glad to hear. Yeah. Another question here is in your YouTube Ads, consulting business MaximeW, what would you say is like the number one problem that you come across for people that you can help people out with?
Maxime:
Yeah. So be like, you've already the people that I'm working with, they already advertise on Facebook and they kind of face similar problems as I faced. So Facebook ban their account or restrict their account for maybe no reason. And so they don't have any more traffic going to their offers. And so they stand there as I was standing, freaking out wondering what they are, what they are going to do to get new customers, new leads. And when I generate awareness for their businesses. And so that's the kind of clients that I helped the most, the number one problem that I think so it's maybe not a problem, but it's a different way of thinking is that you are, we have like a spirit specific. So you need to have a specific video for YouTube. You can't repurpose what you have on Facebook to use on YouTube. So it's usually like people have kind of time of creating, coming up with the script and creating the video and, or the editing because there are not too much too tech savvy or these kind of things. So I've actually created like a script, so you can create the scripts really easily just answering questions. And then I have like tutorial on how to simply edit the video to feed the YouTube algorithm. So yeah, that's the two main things that I see are problematic when going on YouTube.
How YouTube Ads Benefit Businesses
Brady Snow:
Okay, Cool. Yeah. That makes sense. For sure. And then with YouTube ads, how do you feel like this can benefit businesses with their advertising, especially in these times where we've moved towards more online advertising and stuff in general, more people are online with the pandemic and everything too. Yeah. How do you feel? Yeah, go ahead.
Maxime:
So first I would say like, everything is moving, moving towards video. So like if you type video marketing statistics or these kind of things, you can see that the rise of videos is actually going more and more. And actually Facebook tries to push video more and more. I don't know if you've seen on the new layout version of Facebook, you have like a tab for watch and you can only watch videos in there. So I think they are trying to compete a little bit with YouTube, but like the marketing your business really will be much more powerful when people can actually have the three way so they can see you, they can email you and they can read what you have to so they can go on your website and read. So they are like multi person. So we are feeling that they, so the video is much more powerful than just sitting and like watching an image or something like this.
Maxime:
And this is where I, I see the future of marketing and also like, it's super, like why I love YouTube for coaches, consultants, or course creators, basically anyone that has an info product to sell is because it's fits perfectly with a VSL Funnel or a Webinar Funnel because people are already watching videos. So they have to sound on and they are already in the frame of watching videos. So when you send them to like a VSL funnel or Webinar funnel, it's like easier for them to sit through the entire thing and watch what you have to offer.
Brady Snow:
Yeah, for sure. Yeah. Yeah. Cool. Well, just on a quick different note, We're living in crazy times, but what are you looking forward to for your business in general, in the future, in the near future?
Maxime:
Yeah, I'm definitely looking forward to go back to travel. So like, I mean, like there are always good sides of everything on everything. And even though we live in crazy times, I think we have like a lot of lessons to learn. And so I want to focus on, so utterly these, these spend the meet me, like really double down on my business and me like start moving towards like a more leveraged business model. So I'm definitely looking forward to create this, this coaching program to help and impact even more people with YouTube Ads. But also I think we have a lot to learn from, from these times and things that we should do or shouldn't do, and like, like it's to everyone to learn the lessons, but I think it's a great opportunity to learn and see what we can do best. And I think it's going to take a lot of businesses online and yeah, it's definitely the way to go in the future. So I'm pretty excited too, towards where we're it's ongoing, but yeah, I'm definitely looking forward to go back to Trevor and to meet new people, discover new places and just explore their world.
How to Get in Touch with MaximeW
Brady Snow:
Yeah, for sure. Hopefully we'll get back to that soon. Yeah. Cool. Well, I think that was about all the questions, but just to wrap up. So if people want to get in touch with you about your YouTube Ads consulting business, where can they go? Where can they find you?
Maxime:
So you can go to my website, MaximeW.com or just add me on Facebook. It's Maxime Warnault. No, it's kind of odd too. Right. But I think you'll find a link somewhere around the video. Just add me on Facebook's say hi and we can, we can chat and see, or I can help you from there.
Brady Snow:
Awesome. Well, yeah. Thanks for jumping on this call and answering these questions. Good luck with your YouTube Ads consulting business.
Maxime:
Thanks, man. Thank you very much for, for your time. And I'm really looking forward to grow other businesses with. Yeah.
Brady Snow:
Thanks again for meeting.
Maxime:
Also, man. Thank you.
Brady Snow:
Yeah. Have a good day, man.
Maxime:
You too.
Get a

Membership Today
Sign Up Now
Resources: