Get a

Membership Today
Sign Up Now
Video Transcript:
What is My Consulting Offer?
[Brady Snow]
(Stoked to be interviewing Davis Nguyen, founder of My Consulting Offer) Cool.
[Davis Nguyen]
That's fantastic. Yeah, no, I appreciate you reaching out and it sounds like you and Justin and everyone else is doing some pretty cool things with the, and Chris as well, with the testimonials and everything.
[Brady Snow]
Yeah, it's been a really exciting time, for sure. Definitely crazy times we're living in, but business has been good. So, it sounds really exciting what you've been doing too with My Consulting Offer. Can you tell us a little bit about your business and what you do?
[Davis Nguyen]
Sure, so My Consulting Offer, we help people become management consultants.
[Brady Snow]
Okay, cool. And is that just using any kind of niche or business offer? Is it kind of situated more towards any kind of advertising in general?
[Davis Nguyen]
Okay, so management consulting is a type of job similar to being a surgeon or similar to being an accountant. It is a sub type, type of job. So, it's kind of a company that will hire you as a management consulting to it. So it's not like, let's say, being an independent consultant. So it's a job where you're basically working for a big company, like a McKinsey or an Accenture or Deloitte or a Boston Consulting Group. You're familiar with those types of brands. So, essentially we help those people get their foot in the door and get those interviews and then prepare for those interviews as well.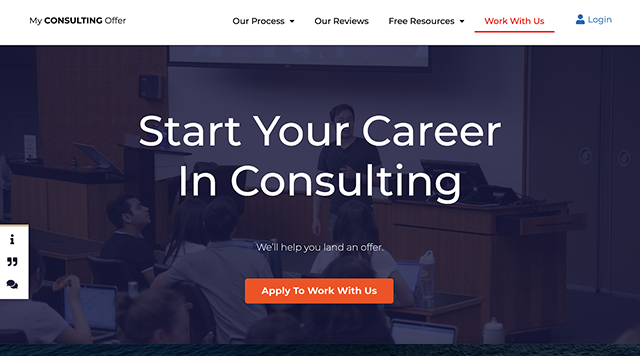 Marketing with YouTube Ads
[Brady Snow]
Okay, and you've been using YouTube to help people with that? Tell us about that.
[Davis Nguyen]
Yeah, so we use YouTube to get a lot of our audience towards it as well. So, in the beginning we didn't know what we were doing before using TubeSift. So, being able to just figure out the trainings as well as being able to go through and just see what best practices are. And just be able to quickly search through what are the most popular YouTube channels, for example, or the most popular videos based on keywords and everything that people are looking for, really help us to figure out what our messaging should be as well as what people cared about.
[Brady Snow]
Okay, yeah. Nice. So, with a lot of the people that you help, I'm sure it's different situations for each of them, but is there a number one problem that you come across for businesses that you can help them out with?
[Davis Nguyen]
In terms of the people that we work with, we work primarily with people who are trying to be a management consultants. So, we don't work with the companies directly themselves.
[Brady Snow]
Okay, but with the YouTube side of promoting businesses of any sort of what do you think are the benefits that can help businesses out if they're using YouTube advertising?
[Davis Nguyen]
Yeah, so I think YouTube ads is … YouTube is great. So, people who are on YouTube, especially during the times when there is COVID right now, users are up there. So, people are always consuming content. So ads, or just even regular videos. So, just being able to use … YouTube gives you an access to people who already are interested in what you looking for. For example, I can't imagine how much protein supplements I have bought, just because I'm looking at workout videos and then there's a supplement ad right before it. So, I definitely see the power of using YouTube in terms of just being able to get your message in front out the right people or the right audience without having to figure out …
For example, before YouTube in the old days as an ad for our parents' generation, you basically put out a billboard and you hope that the right people see your billboard. But here is is kind of like Google and YouTube basically tell you, "Hey, we think we know who the right people are, or you tell us who the right people are and we'll show your billboards to those people."
[Brady Snow]
Yeah, for sure. It's a great way to precision target your audience. Because most people go to YouTube. It's one of the second largest search engines on the internet and whatnot. But they're looking for video content and it's such a great way to precision target your ideal audience.
[Davis Nguyen]
Yeah, it's great to be able to find the right people who you're trying to help and find the right audience base for you.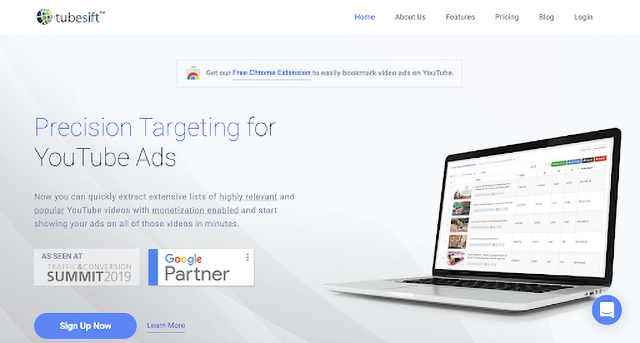 Using TubeSift to Target your Ad Placements
[Brady Snow]
Yeah, for sure. Definitely. So, you said you use TubeSift in your consulting when you're talking about the YouTube side of advertising? Is there a major benefit or what's the biggest kind of takeaway that it helps you with?
[Davis Nguyen]
So, I think for us it's because we were just starting off with nothing, it just helped us get to a solid base where we knew we weren't intimidated by what YouTube has to offer. Because it's just a big ecosystem. So, just being able to learn everything from the dashboard, to best practices, or even using the banners to edit the banners. Everything was just very easy to well done. I imagine like if you didn't know about TubeSift, I was like, "Wow, we have to manually figure out all this stuff by ourselves?" And it's just such a huge time and, of course, money saving to be able to use it. Everything was just so easy. Very good interface. Customer service was fantastic. It was like I had no complaints about it.
[Brady Snow]
Awesome. Yeah. Good to hear. So it saves you time, ideally, with your advertisement placements and such, right?
[Davis Nguyen]
Exactly. Without having to hire like a YouTube agency or something, you can just do it yourself.
What Davis is Looking Forward To
[Brady Snow]
Cool. Yeah, awesome. Awesome to hear. Glad it's helping. So yeah, I'm just going to take it in another direction. So, I know the world's in crazy times. Most of us have never lived through anything like this before. But for you personally, is there anything like, even though it's like scary times, we don't know the future, we kind of got to embrace the moment as best we can, right, and be grateful for what we got. Is there anything you're looking forward to in personal life and for your business in general in the near future?
[Davis Nguyen]
Sure. So, when it comes to personal business, because we help people find jobs, even during this time with COVID, and we've been able to help people get management consulting jobs during those times. That's probably the best ways to start my day or my weekend. I'm always getting news like, "Davis, I got the job." During this time, it's just being able to help people. I think that really helps me because it's kind of like when you feel like there's no control and you feel like the world around you has been changed so much, I find that, at least for me, if I'm able to help other people get some control and continue to build and to reinforce their journey and their path, that always makes me brighter about my day as well. So, I guess I'm pretty lucky that our business is all about helping find opportunities and create opportunities in their lives, such as getting their dream, job. So with that, I think personally and professionally, I'm pretty grateful for that. So, that's what I look forward to.
[Brady Snow]
Awesome. Yeah, great time to be doing what you're doing, for sure. It's helping a lot of people out. If people wanted to get in touch with your business, where can they go? Where's the best place to find you?
[Davis Nguyen]
Yeah. They can just go to myconsultingoffer.org and just email me at davis@myconsultingoffer.org. I'm super easy to reach out to, LinkedIn. You'll you'll find me online. I'm all over the place, and I'm just one message away.
[Brady Snow]
Cool. Awesome. And yeah, we'll throw those links on our blog too, so people can just easily find it that way as well. But yeah, that was about all the questions we had. Was there any other things you wanted to add or say just about what you do or just life in general? You can kind of open it up to whatever.
Consider Using TubeSift to Laser-Target your Audience
[Davis Nguyen]
Now, I'm going to say that anyone who's considering using TubeSift, just think of it as like it's a no brainer. Yes, you can look at the price and how much it is for annual, for monthly. But realize, think about how much time you're going to be saving trying to figure out everything yourself versus just going through the training and just having that easy dashboard. Or even amazing customer support team just to answer any questions that you have along the way about just figuring out and navigating YouTube atmosphere. I feel like as a millennial, I should probably know more about it, but I'm like, "Ugh." I'm like everyone else. At least I try to learn it through. So, it was probably one of the best investments we made in 2020.
[Brady Snow]
Awesome. Well, yeah thanks. Really good to hear it. So, yeah, this has been Davis from myconsultingoffer.org. Thanks for joining us tonight. We'll be in touch when we post this out.
[Davis Nguyen]
Fantastic. Awesome.
[Brady Snow]
Awesome. Yeah. Yeah, thanks man. Have a good day.
[Davis Nguyen]
Yeah, same here. Have a great evening. I'm excited to see how everything goes. I have a question for you, is how did you get connected with Justin and everyone else?
How Brady got Started at TubeSift
[Brady Snow]
Oh yeah. So, I met Justin through like one of my best friends and him had known each other for a long time. We actually met on a back country snowboard trip, where my friend and I went. And we thought that was the first time we had met, but then we realized we had been together at a wedding before for my friend. Then also we found a picture of ourselves snowboarding together in Crested Butte. So, we'd actually known each other longer than that. I was kind of looking for a new job at the time and Justin had TubeSift going for seven or so years and sounded really interesting. He said he was growing the business and he wanted someone to help with writing and video stuff. So, that's kind of really what I was interested in.
So, it was a friend connection. So we ended up and started working together and it's been awesome. It's only been since March, but it's been really great so far. I mean, COVID hit kind of right when I started, which is like a major shock. But that just kind of transitioned everyone towards internet marketing in general. And that's kind of just a great way to connect with people because everyone's on the internet nowadays. Especially, it was already growing that way, but nowadays even more than before. So, yeah, that's kind of how we got started.
[Davis Nguyen]
Well, no, that's a great story about … It sounds like working with someone you already have a history with or someone through a connection there. So congratulations on the role and billing the time in March is fantastic. Obviously, well, [crosstalk 00:09:09].
[Brady Snow]
Yeah, sure. Definitely.
[Davis Nguyen]
Let me know if I can be helpful. Hopefully the content and some of the sound bite was great for the review and the blog as well. If you need anything else, let me know.
[Brady Snow]
Yeah, we will do, man. We'll be in touch about everything. I know we're getting this recorded. So, we'll get this up on our blog, but I'll reach out before that and just kind of touch base about everything. And so, yeah. So it's been really good talking with you tonight.
[Davis Nguyen]
Yeah, same. I'm happy to support you and the team. Let me know.
[Brady Snow]
Thanks man. Yeah, we'll be in touch.
[Davis Nguyen]
Okay, have a great one.
[Brady Snow]
Yeah, you too, man. Thank you. Bye.
Get a

Membership Today
Sign Up Now
Resources: