Get a

Membership Today
Sign Up Now
Video Transcript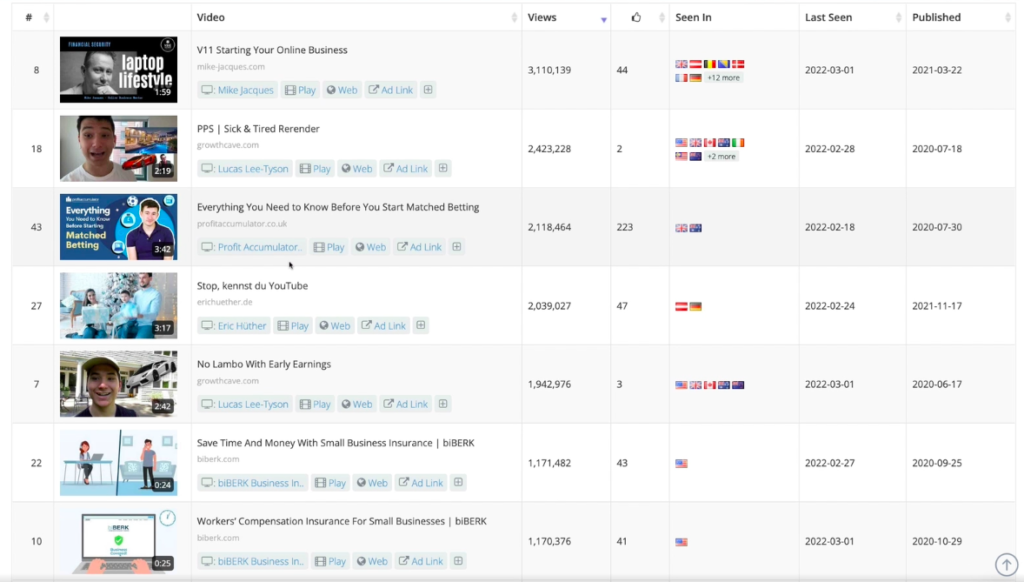 Find ads that convert on YouTube
Justin Sardi: If you're in the make money online space, you've probably noticed that there is a ton of competition and it's more important than ever to know exactly what types of ads will convert and what types of ads won't convert. So, on today's training, I'm going to show you exactly how you can go from start to finish and figure out not only what's working on YouTube for online advertisements in the make money online space, but also what's not working so you can avoid what's not working and put to use exactly what is working in your business. Now, we're going to be using our proprietary software to show you this, so let me jump over to my computer and we'll dive right in.
All right. Let's talk about make money online ads. Now, a lot of people have been asking, how do we find that? So, here is exactly what we do. We just go into the search function of Video Ad Vault, type in make money online. There's also a bunch of different niches in make money online, so you can type in affiliate marketing or whatever you might… the sub niche in there. CPA, things like that. And you can start to see a lot of make money online ads. Right? So, here's starting your online business with a laptop lifestyle. Right? We can click play here, see what's going on.
Speaker 2: [inaudible 00:01:16]
Justin Sardi: All right.
Speaker 3: Why are you wasting your time on YouTube when you could be building your own online business?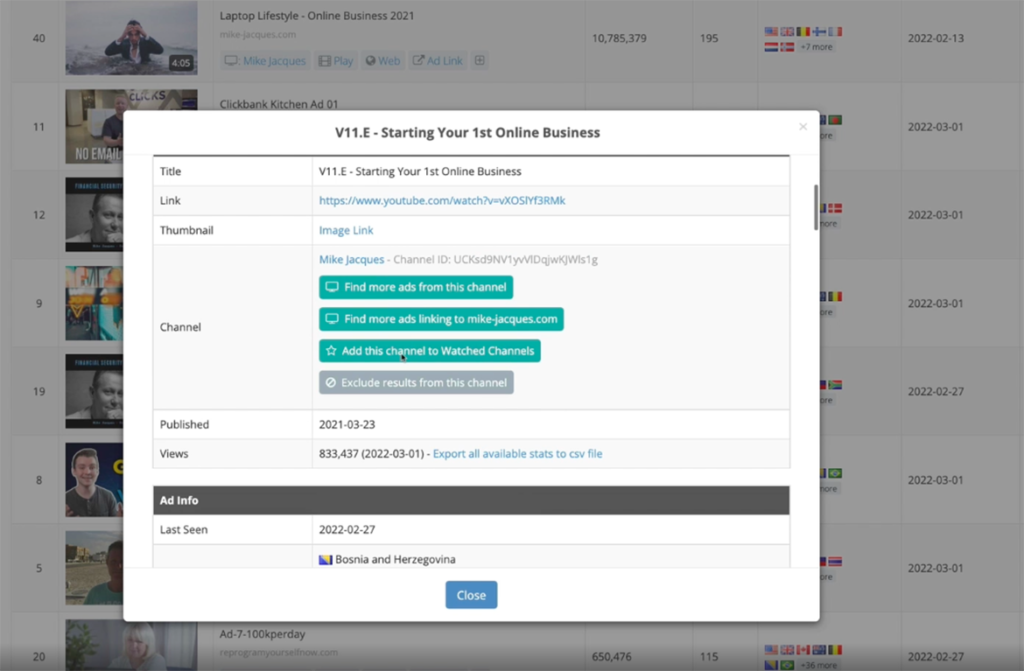 Follow the ads you liked with the Watched Channels feature
Justin Sardi: Okay. So, this ad right here goes to… I actually have made ads that were very successful just like this. Literally walking down a path holding a cell phone. This is blurry. This is very unproduced and he has 3.1 million views. Okay? So, just keep that in mind. So you can start to see you don't have to have a ton of stuff. He's sending to build an online business. Laptop lifestyle. I mean, this is very simple. He still has a copyright 2020. So, it just goes to show that… And this was actually very recently seen as well. So ads like this definitely work, you don't have to have anything fancy. But that's how I would find ads in the make money online space. Or I would jump in here and go… Affiliate marketing. Right?
Try and find different… That's the same guy showing up again. Here's Robby Blanchard with affiliate marketing. So you could start to see… This is version 11 of his, so he actually has a few different and ads in here. So, this guy's probably a good guy to follow, but which is something we can also do with Video Ad Vault. We can add this to our watch channels because I want to see what ads this guy's rolling out because it seems that they're doing pretty well. I'm going to dig into that a little bit more when I'm not shooting a video here. Right? So, that's exactly how I would go about creating or finding ads that convert in the make money online space. So, as you saw, with just a couple of clicks and keywords I was able to find exactly what types of ads are converting and like I said, which ones are not so we can avoid those ones that aren't and jump on those tactics that are working. You saw ads, landing pages and a bunch of other relevant data that's going to help you along your way. Now, underneath this video I've linked to that software, Video Ad Vault, where you're going to be able to try out the full tool suite. See exactly what's going on in your niche and figure out how to shortcut your way to success without wasting time or money on ads that aren't going to work. That's it for me on this video. Bye for now.
Get a

Membership Today
Sign Up Now
Resources