Get a

Membership Today
Sign Up Now
Video Transcript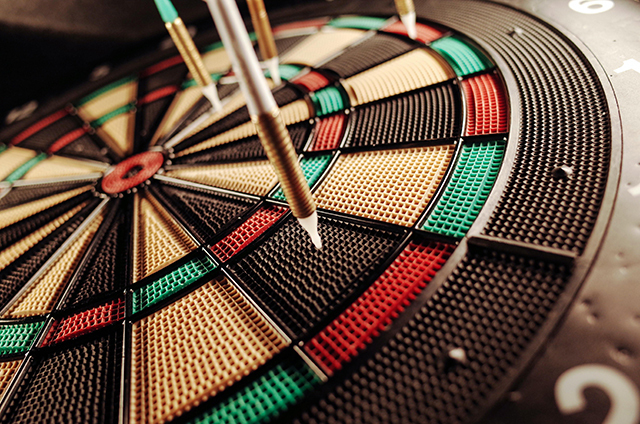 Advanced Targeting Options
Justin Sardi: Welcome to the Advanced Targeting Series from TubeSift.com. Today, we're going to be talking all about a bunch of advanced targeting options, and the one we're talking about in this specific video is retargeting your competitors or large websites traffic, without you putting a retargeting pixel on them. So, what I'm talking about is being able to target all of, let's say, ClickFunnel's users quickly and easily with YouTube ads without owning the site clickfunnels.com, because unless you're Russell, you don't own clickfunnels.com. So, let's go ahead and dive right in.
So, there's a really cool way that you can target in Google ads that not a lot of people are utilizing, and honestly, every time I show somebody this they're like, "I had no idea you could do that." So, we'll jump over here. We're in our audience manager. So, to get there, you click this wrench up here, and then you go to audience manager in the shared library. Now, up here, you're going to see data segments, custom segments, and combined segments. You're going to go to custom segments and you're going to click the plus button, and you're going to create a segment. So, for here, let me do ClickFunnels.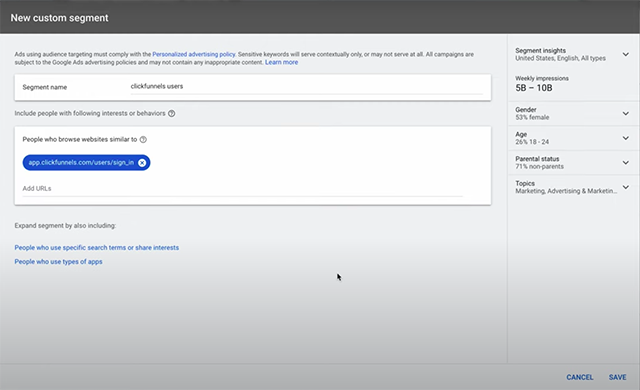 Google Ads are better than Facebook Ads
So, ClickFunnels, or I might call it funnel builders or something like that, but ClickFunnel's users. Then right here you can see, interest or behaviors, and if we scroll down a little bit, it'll say, people who browse types of websites, and I'm going to X the other one out. Then we just have to add URL. So, ClickFunnels login page, right here we can see this is the exact landing… Not landing page. This is the login page that ClickFunnel's users are using. So, I'm just going to copy that URL and I'm going to paste it right here. Now, what's going to happen, and the reason this works by the way, as you're going to see, we're going to get five to 10 billion weekly impressions, the gender, age, all that, most of our non-parents, here's some of the topics, and this is how you can see that it's working.
You can see they're into marketing, advertising and marketing, business and industrial. These are very specific types of people that are hitting the ClickFunnel's login page. I think this might be a little off, I'm pretty sure that more males use it, just based on going to marketing events and going to funnel hacking Lab, but I could be wrong. But here you go. You can see the demographics, some insights about this, all that good stuff. Then all we're going to do is click save. Now, you might be wondering how exactly does Google get this information? Why is this even a thing? You could never target like this on Facebook. The answer is because of Google analytics and Google search. So, if you think about it. I just did a search for the ClickFunnel's login page.
Then I clicked on it. Google has literally taken me and put me in that bucket now, being like, hey. This guy has hit this ClickFunnel's login page. Just from the Google search. Then on top of that, I guarantee you that they have Google tracking on their page, they're running ads to it. They have retargeting pixels, they have Google Analytics, so all of that is owned by Google, like Google and the search and all of that good stuff, and Google's compiling all of that database on users and putting it into a database. That's literally what they are selling with Google Ads, they're selling ad space and targeting, and access to their data that they have. So, that's why this works, why Google lets you do this. Yeah, you can do this with pretty much any website. It works amazingly well.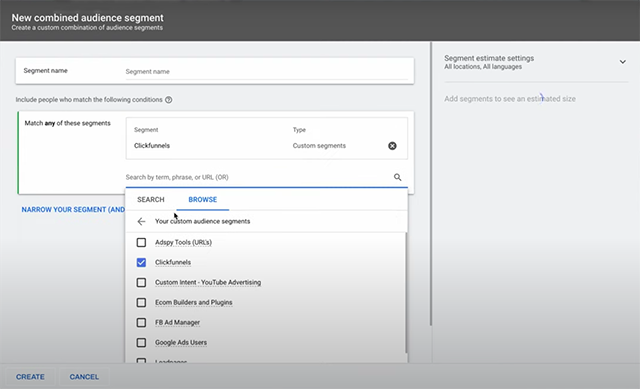 Target audiences in different segments
Then when you go to set up your YouTube ad, all you have to do is target this specific audience, and you can get a lot deeper. You can do search terms, we'll make a whole nother one on that in a little bit here. There's a lot, you can combine some of these audiences as well. You can say, hey. I want to target people who are into these specific segments I've created. So, you can have the ones that you've created in here, custom segments, so I'd go find my ClickFunnels one, add that. I could say, hey, I want to target people who are into ClickFunnels and also on my retargeting list, or something along those lines. So, you can get really granular with this and get hyper targeted, which is awesome. I would say this is probably one of the next best ways to target besides placements.
This is a little bit more scalable as well, but it is going to be a little more broad, you're not going to get everybody obviously, that's just visited that page because Google's going to mix it up a little bit. But we found these audiences work extremely well. One tip that we actually do, or that we've been doing is, if I'm targeting ClickFunnels, I might say something on my ad like, the first step to funnel hacking… Knowing that anybody that's in ClickFunnels is familiar with funnel hacking, and that's instantly going to catch their attention, and get them hooked. So, just something to keep in mind when you're using targeting like this as well, is make your ad creative match who you're targeting.
So, that's it for me on this one. Definitely check out TubeSift.com. Or if you want to know what kinds of ads are going to be converting for these people, you can always check out Video Ad Vault. We always have links below these videos to those two products. If you did like this, please, if you're watching on YouTube, give us that thumbs up, subscribe to our channel, helps me know, hey, you like this content, and I can create more like it. So, that's it for me on this one. Bye for now.
Get a

Membership Today
Sign Up Now
Resources