Get a

Membership Today
Sign Up Now
Video Transcript
The Customer Journey & YouTube Ads
Hi, Brady Snow here with TubeSift, back again with another YouTube ads case study. Today I want to talk about how important it is that your ad addresses a problem. A key issue that your prospect may have, and then shows the solution. How your offer is going to overcome that difficulty or that challenge. It's a really crucial component of moving your prospect of customer along the journey (customer journey & youtube ads) from interest to actually making a conversion. This is crucial and you only have a short amount of time to do this in your ad. So, an example I want to show is from a filmmaking program that I took to learn more about the technical side of filmmaking, and do it in a short amount of time. So this program was called 14 Day Filmmaker, from Mrpaulxavier.com, and they have some YouTube ads that are very enticing and it moves the prospect along the (customer) journey.
Using the TubeSift Bookmarker to Reference a YouTube Ad
And so I was hooked from the moment I saw their ad. So I'm going to hop on over to YouTube here, and just show you this ad. I actually bookmarked this ad. I've been trying to find it on my own to get it to pop up on my own just by using different keyword searches. But I actually used the TubeSift bookmarker, Chrome extension, which you can add for free if you would like to bookmark your ads and save them for reference at a later date. Has a lot of beneficial uses. So, here is my bookmarker, and here are my bookmark ads. I believe it was this one. And here we're going to watch this ad, and let's look at how they address the problem upfront. And then how their solution is going to overcome that for you.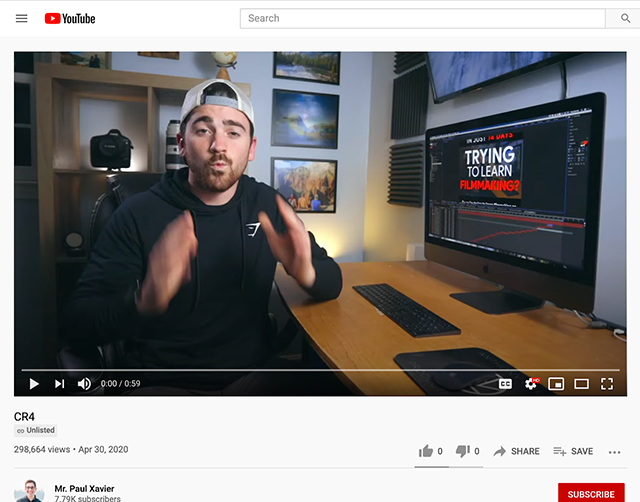 14 Day Filmmaker Ad #1
What if your film school could be completed in just 14 days, only cost $48, was taught by real practicing commercial filmmakers. Instead of just boring lectures, you get dynamic visual trainings and practice exercises every day to turn theory into results. It has camera gear recommendations, starting as low as $250 for a gear that can produce seriously cinematic content. And at the end of the program, instead of getting a worthless degree, you shot, edited, and organically released a commercial promoting your business.
Sound too good to be true? Well, that's exactly why we built 14 Day Filmmaker. It's a learning experience like no other for aspiring filmmakers and business owners that want to learn the immensely valuable skill of professional content creation. Not to mention you get access to all of the existing content, plus all of the content we add on a weekly basis for the rest of your life. If you want to learn everything you need to know in just 14 days, click the link below and enroll today.
Introduce the Problem and Solution
So in that ad, we saw how there was a problem, something that needs to be overcome, a challenge. And that is that filmmaking, learning it can take time and lots of money, but then their solution is that it doesn't need to. They've designed a course that gets you up to speed quickly, and allows you to save money and still make a professional product. They have another ad here that I would like to show you as well. It follows the same (customer) journey, but from a slightly different angle. I also bookmarked this one to my TubeSift bookmarker. Let's watch this ad here, right now.
14 Day Filmmaker Ad #2
Here's the issue with so many other filmmaking programs. The first type of program covers a ton of information, but it costs upwards of $1,000. Now, the price tag alone is a huge barrier to entry, and it takes away from all the money you have to invest in a gear. Now, the second type of program goes just really deep into one aspect of the process like lighting or editing. But even these programs will cost hundreds of dollars, and you miss out on all the other pieces of the puzzle. And on top of that, both programs only cover theory. No one's giving people the exercises they need to turn theory into skills. Now this problem, this gap in the industry led us to create 14 Day Filmmaker.
This is the world's most affordable program that will teach you every aspect of the filmmaking process in just 14 days, even if the most expensive camera you own is the one in your pocket. And when we say affordable, we mean, less than the price of taking your grandma out to dinner affordable. We're talking over 100 trainings, 25 hours of content, all streamlined into a 14 day timeline so value packed. You'll learn more than what most people get out of 18 months on YouTube. His words, not mine. Now, I know what you're thinking. What if I can't get through all the content in just 14 days? Well, that's fine because you get lifetime access to the entire program and lifetime access to all of the content we add to the program.
So you can watch, re-watch, and pace yourself as much as you like. We have over 9,000 amazing students in our community, learning new skills, leveling up their existing skills, making money from these new skills. But most of all, growing and supporting each other in our private community. Now here's exactly what you're going to learn on a day-to-day basis. Day one is all about your foundation and the fundamentals. What's the best gear to buy depending on my budget? And how the heck do I get started using it? By the end of your first day in the program, you'll know what settings to use…
Positioning your Offer as the Best Solution
So the ad continues there for a while, but you can see in the beginning how they really addressed the problem. And that is that a lot of filmmaking programs cost a ton of money. There's a ton of information. It might take too much time. Do you want get up to speed as quick as possible? The world moves so fast these days. So they go ahead and move the customer. So they go ahead and move your interest from a big problem that you may be facing with a lot of options, but you may not have the right solution. So then they say that with this program, you can overcome a lot of these hurdles, a lot of these obstacles in a short amount of time, and gain the same amount of skills. In fact, even more by putting your skills into practice at a quick rate.
Use the Customer Journey & YouTube Ads to Overcome a Challenge
So, I think that is a great example of how with an ad, you need to move your customer from, "Oh, there's a challenge, we have a problem, but we can overcome it." So, that is a very key component you need to consider when you're scripting your ads. And with this second ad here, they did a great job with motion graphics, text animations, sound effects, and that's a whole another level. You don't have to necessarily do this right away with whatever your offers is. This works in any niche. The main thing you need to consider, is that you need to move the customer along this journey by introducing the challenge, the problem. And then how your service, your product, your offer is going to overcome that.
We've seen that same thing in some of our other case studies before, Squatty Potty Poo-Pourri. This works in a lot of niches, Dr. Squatch soap. So again, that's just something you can consider when you're scripting your ads. It's a very important thing that's going to move your customer from interest to a potential buyer, to actually purchasing your product. It's something that's going to move your customer from interest to engaged to buyer. And it's crucial. So thank you for watching this one. If you'd like to learn how TubeSift can help you target your ideal audience on YouTube, and save you time and money, and get the most bang for your buck with your ad spend, check us out @ TubeSift.com. So, thanks for watching, and we'll catch you next time on the next YouTube ads case study.
Get a

Membership Today
Sign Up Now
Resources