Get a

Membership Today
Sign Up Now
Reach the Right Customers
Google Ads prides themselves on connecting businesses with the right kind of customers. Consumers use Google to find the products and services that they are looking for. This is exactly why businesses choose to use Google ads. They use it to serve their ads and offers to reach the right customers with Google Ads, and drive growth in sales.
Google has always worked to optimize their ad placement and search technology to help both consumers find the products and services they are looking for, while also helping brands offer their products and services to customers who want what they have to offer.
In February of 2021, Google updated their algorithms for Google Search Ads which now makes it easier to connect brands and customers.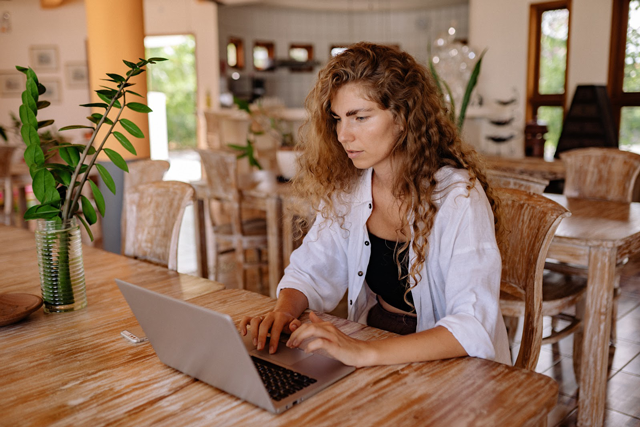 How Google Ads Search Works
Google Ads Search uses keywords to serve ads to people based on what they are searching for. When a user types a search term into Google, ads will be displayed at the top of their search results that are related to the terms they searched for.
Google Ads uses several types of keyword matches to consider an ad for the automated auction which then serves the chosen ad. They use three kinds of keyword match: broad match, phrase match, and exact match.
You can view Google Ads Help article About Keyword Matching Options here for more detail.
This graphic is from their article at the above link and helps explain how it works: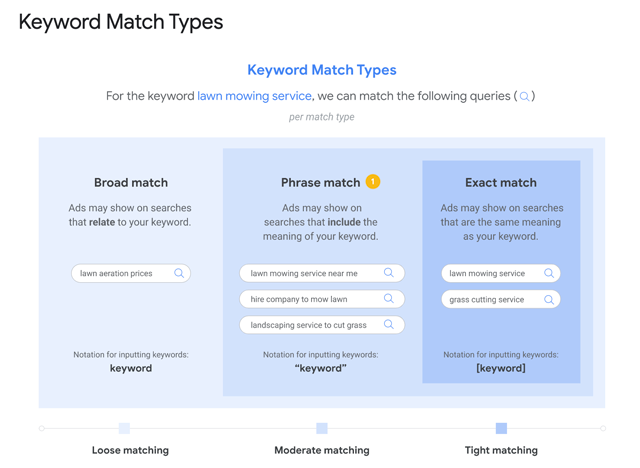 To put it simply:
Broad Match- ads are served to searches that are not exact but similar to what a customer searches for
Phrase Match- ads show to searches that match the keyword
Exact Match- serves ads to search terms that mean the same thing as your keyword
The goal behind all of these keyword match types is to serve the most relevant ads to the terms used in the search.
The Update to Keyword Match
Google updated how these keyword matches work in order to improve the accuracy of serving the right ads to the right people. Google is integrating the best of the broad match identifier with phrase match.
This will allow the phrase match to expand its breadth to reach additional broad match modifier traffic, while still monitoring the word order when it is relevant to the meaning of the search term. This will make it easier to both manage keywords and reach more customers.
These improvements will make it easier to reach the types of searches you want with phrase match. You won't have to worry about accidentally reaching the searches you don't want. This ultimately improves the accuracy of your keyword matching so you won't pay for ads that are served to keywords that you don't want. This will have a profound impact on marketers' ROI.
Google Ads Example of Search Updates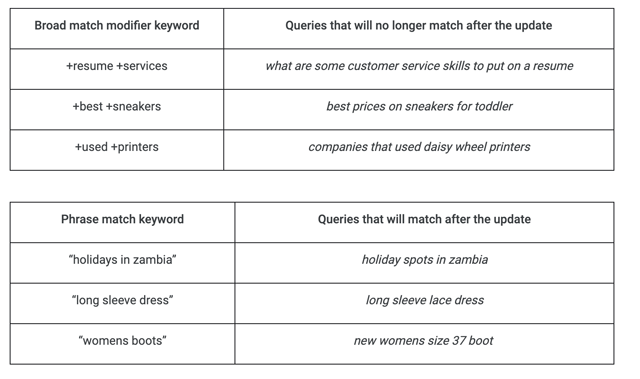 How the Improvements Help Marketers
These changes ultimately improve the accuracy of your keyword matching so you won't pay for ads that are served to keywords that you don't want. This will have a profound impact on marketers' ROI.
Google's algorithms have always been highly effective in helping marketers reach their audience but these advancements will only help marketers save time and money. By having more accurate ad placements with Search Ads, marketers are guaranteed to save money on their marketing campaigns by only paying for ads served to consumers who are searching for related keywords.
Advertisers actively running campaigns WILL NOT have to make any immediate adjustments to their keywords in their campaigns. These changes have been implemented automatically.
However, please note that these changes will be rolled out to the entire world by July of 2021. Advertisers will not be able to make new broad match identifier keywords. Broad match keywords already in place will continue to function but Google strongly recommends creating new keywords in phrase match moving forward.
Additional Enhancements to Keywords
Google has integrated user feedback to make some additional improvements as well. Broad match will now examine extra signals in your ads account to provide even more relevant searches. When used with smart bidding, the broad match will monitor signals related to your landing pages, the keywords in your ad group and more to help you discover new opportunities to reach even more consumers.
As a result of these changes, keyword matching has become even more predictable. Advertisers will have more control over which keywords match to a given search.
How to Reach Even More Customers
With Google being the biggest search engine in the world, it's no question that Google Search Ads is a powerful way to serve your ad to an audience that will be interested in your offer.
However, these ads will only display as static text within the search results. Users often skip over this text to browse the search results for what they're looking for. If you want the highest ROI possible, you will need an even more engaging type of ad that is served in the same targeted fashion as the Search Ads.
This is accomplished with the power of YouTube video ads. Video is the most engaging type of ad since there is a visual and audio component that appeals to more than one of the five human senses. It also has been proven to deliver a higher converting call to action.
YouTube is the second largest search engine in the world after Google.com and is specifically focused on video. Finding the right placements for YouTube ads is one of the fastest and most cost-effective ways to attain a high ROI on your ad campaigns and scale your business fast.
TubeSift is the go-to placement software to use to find the most relevant videos to place your ads on using keyword search. Go to TubeSift.com to find out more about how you can precision-target your ideal customer on YouTube and make more sales for your business.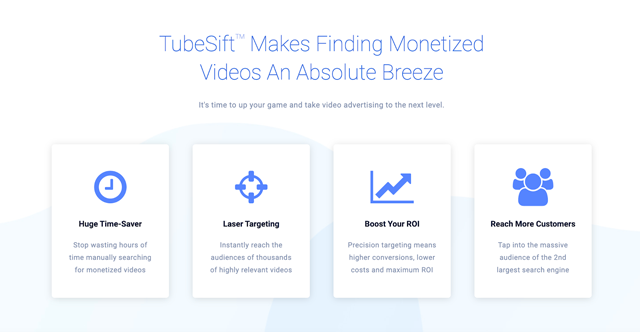 Get a

Membership Today
Sign Up Now
Resources: