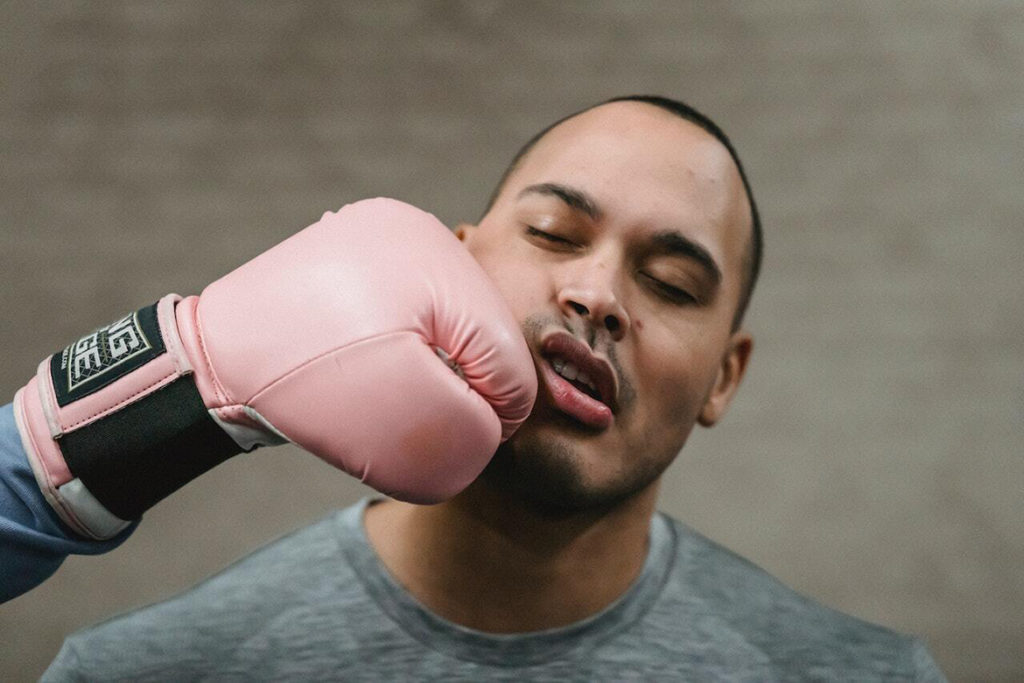 Get a

Membership Today
Sign Up Now
Where should you advertise in 2023?
Everyone knows TikTok has been on a rapid come-up, but what does a platform most popular with Generation Z users mean for YouTube advertisers?
Well, TikTok has made such a big splash for content creators and advertisers, that YouTube has created YouTube Shorts to directly compete against TikTok.
YouTube Shorts are very new, but you can run them as ads so this is worth paying attention to over the next few months and we have a video coming out soon that will go into more depth on this.
While TikTok has been generally geared towards entertainment and YouTube more towards information & tutorials, Round 1 of the Match has begun for advertisers to connect with their audience to sell their products and services in new ways.
While more older users are starting TikTok accounts and this trend is expected to continue, we do think that YouTube will still remain the dominant hub for people to search for information.
TikTok is a scrolling feed based on user's interests but YouTube remains the best spot to use intent targeting.
What kind of ads are working on YouTube?
So today we're going to use my Video Ad Vault account to look at a YouTube Shorts ad and identify some key lessons for YouTube advertisers.
If you aren't using Video Ad Vault yet to gather your competitive intelligence, check it out here.
I used the Top Channels feature in my Video Ad Vault account to find an advertiser (other than YouTube itself) with the most ads.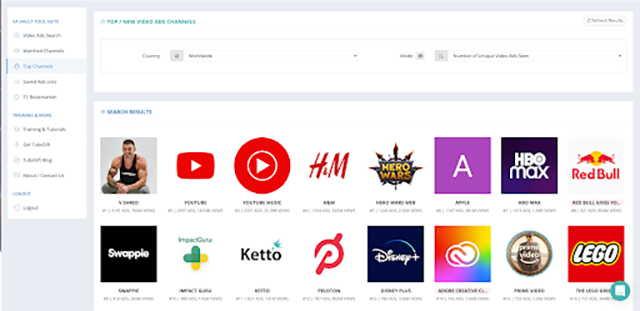 Analyzing Ad Performance with Video Ad Vault
I figured that if they have run more ads, they will have done more creative testing and determined an ad style that works with their offer to grow their leads and sales.
I landed on V Shred, an at-home fitness business with various programs and offers, including certified fitness coaches.
Advertiser: V Shred
Total Ads: 3,191
Total Ad Views: 798 Million
Top Ad: https://www.youtube.com/watch?v=TsL_vL_i1U4
Ad Landing Page: https://vshred.com/sp/survey/survey-ga/?
View/Spend Trend: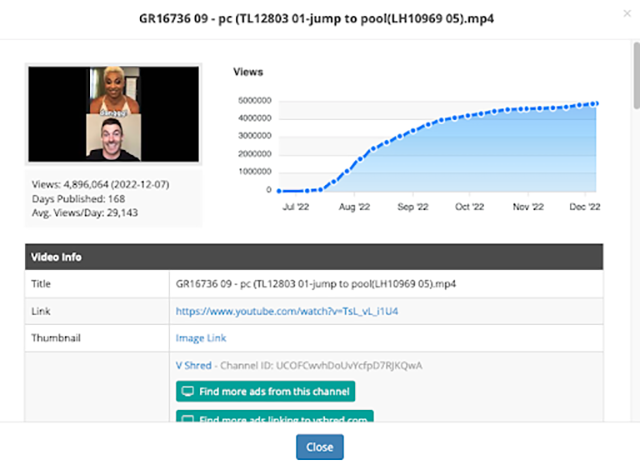 First of all, this view count chart shows me that this advertiser has continued to pay to show this ad, meaning this creative is making conversions for his offer.
I can see it has ran since July of this year, and the advertiser continues to put ad spend behind it.
It also has more views than his next top 3 performing ads:

Since I determined this is V Shred's top performing ad, I can then use Video Ad Vault to get the ad link, and landing page link and analyze what creative elements and styles make this ad so great.
Breaking down the Ad Messaging
Upon watching the ad (links above), I can see that he uses a hook with some simple text and emojis, while he demonstrates an action related to his offer (working out).
He says "the best way to burn fat is not keto, or paleo, or intense exercises like this…"
This instantly speaks to viewer curiosity about which way is the best way to burn fat.
He then uses a quick entertaining clip of him saying "that ain't how you lose weight" to relate to the entertainment trend of video content these days, then launches into a montage of customer testimonials who have burned fat.
The proof is in the pudding as they say, and customer testimonials will always remain one of the best selling points in advertising.
He then launches into some informational facts about losing fat and getting in shape.
At the end he mentions his CTA as a free body type quiz where users can get their free customized fitness plan.
This sends them to his landing page and BOOM, he has packed all of the vital elements of a high-converting ad into 60 seconds.
The Consensus
YouTube or TikTok?
When I looked at VShred's videos on TikTok, I noticed he only had view counts in the thousands and not nearly 5 million like this ad.
Since people search for "at-home fitness" or "how to burn fat" on YouTube, and his ad can be shown to the right audience at the right time…it proves his YouTube advertising is feeding his funnel plenty of leads and sales to grow his business.
Since I watched the ad and viewed the landing page, I now know what kind of ad creatives are working to grow his business in that market segment.
If you want to see top ads and landing pages in your specific industry, you can pick up a Video Ad Vault membership and ensure you keep your ads relevant, engaging, and highly convertible for your audience.
Get a

Membership Today
Sign Up Now
Resources